Programme for the 4th of July
Celebration, 1887

The day proceedings to begin with
firing of small arms at daybreak
& continue untill sunrise, when the
flag will be raised by Captian
Joseph Dutson & Co; followed by
the report of 37 guns and music
by the Martial Band, led by
Captian O. H. Jacobson.
The Citizens will
assemble at the School house ten
o'clock A.M.; & will be called to order
by O. H. Jacobson, Martial of the Day.
Singing by the Chior.
Prayer by C. W. Rawlinson, Chap-
lain. Singing by the Chior.
Oration by Hon. Henry Roper.
Duett by Charles Roper & Nellie G.
Lyman.
Reading of the Declaration of
Independence by Geo. Finlinson
Esq. Resitation by Lottie Carling.
Condition of the Colonists & the
Laterday Saints composed by
E. L. Lyman.
Music by the Band.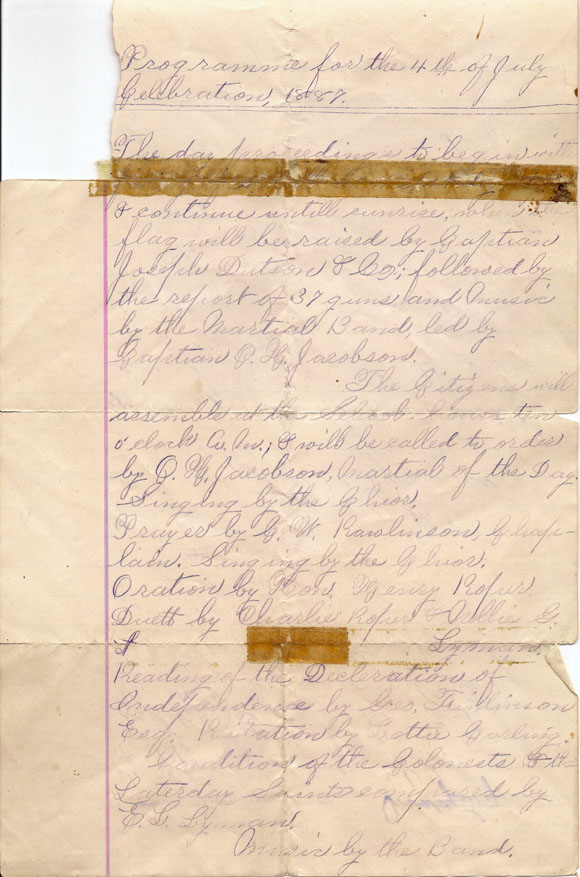 Speech by the Goddess of Liberty
Mary Lyman [strike-through]
Dialogue by Richard Dutson,
Eddy Dutson & Jeff Finlinson.
Toast by George Dutson.
Duett by E. W. Talbot & Wife.
Toasts, sentiments, & speeches by
Volenteers.
Singing by the Chior.
Prayer by the Chaplain.
[ dividing line marks ]
P. M. Prog. [in the margin]
In the afternoon all who wish
will meet at F. R. Lyman's corner
& enjoy themselves racing, swinging
& in any games they choose; all
to wind up with a game of base-
ball by those inclined.
The Rabit
Dance will convine in the
School-house, commencing
half past eight o'clock P. M. All
are coridially invited to attend.

Commity
F. R. Lyman
C. W. Rawlinson
Mary A. J? [possibly Jacobson]